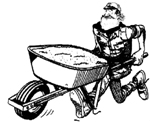 Event details
Saturday | 06 May, 2017
0830hrs
At the Clubhouse
The Annual Working Bee at the Club is scheduled for Saturday 6th May, starting at 0830hrs.
This will include annual maintenance tasks, a tidy up of the section, building maintenance jobs, etc.
Come prepared with a collection of tools with which to weed, mow, wash, sweep, tidy, shovel, dig, clean windows, fix locker doors, latches, grease and oil -- you get the message.
A plate for smoko will keep you really sweet with the Social Committee.
Watch this space for the Task List